About $1 billion worth of Bitcoin was moved yesterday in a single transaction, sparking reactions on Twitter and other social media sites. TokenAnalyst went deeper and found that a significant share of sending addresses point to crypto exchange Huobi.
---
94,504 Bitcoin Reaches a Single Address
On Thursday, Twitter user Whale Alert announced that 94,504 Bitcoin moved from an unknown wallet to another unknown wallet. The price of the transferred Bitcoin was $1,018,147,922 at the time. The receiving wallet became automatically a whale.
94,504 #BTC (1,018,147,922 USD) transferred from unknown wallet to unknown wallet

— Whale Alert (@whale_alert) September 6, 2019
Naturally, there are few entities that could conduct such a transaction. We're talking about whales, crypto exchanges or governments, at least in theory.
Crypto and blockchain data analyst TokenAnalyst tried to figure out where did the crypto funds come from. Apparently, at least a third of the Bitcoin addresses point to Huobi Global.
$1 Billion+ $BTC was transferred in one transaction yesterday. Where did that come from?

We took a look and saw that a large percentage of it could be traced to @HuobiGlobal addresses pic.twitter.com/4jdeYMgyNG

— TokenAnalyst (@thetokenanalyst) September 6, 2019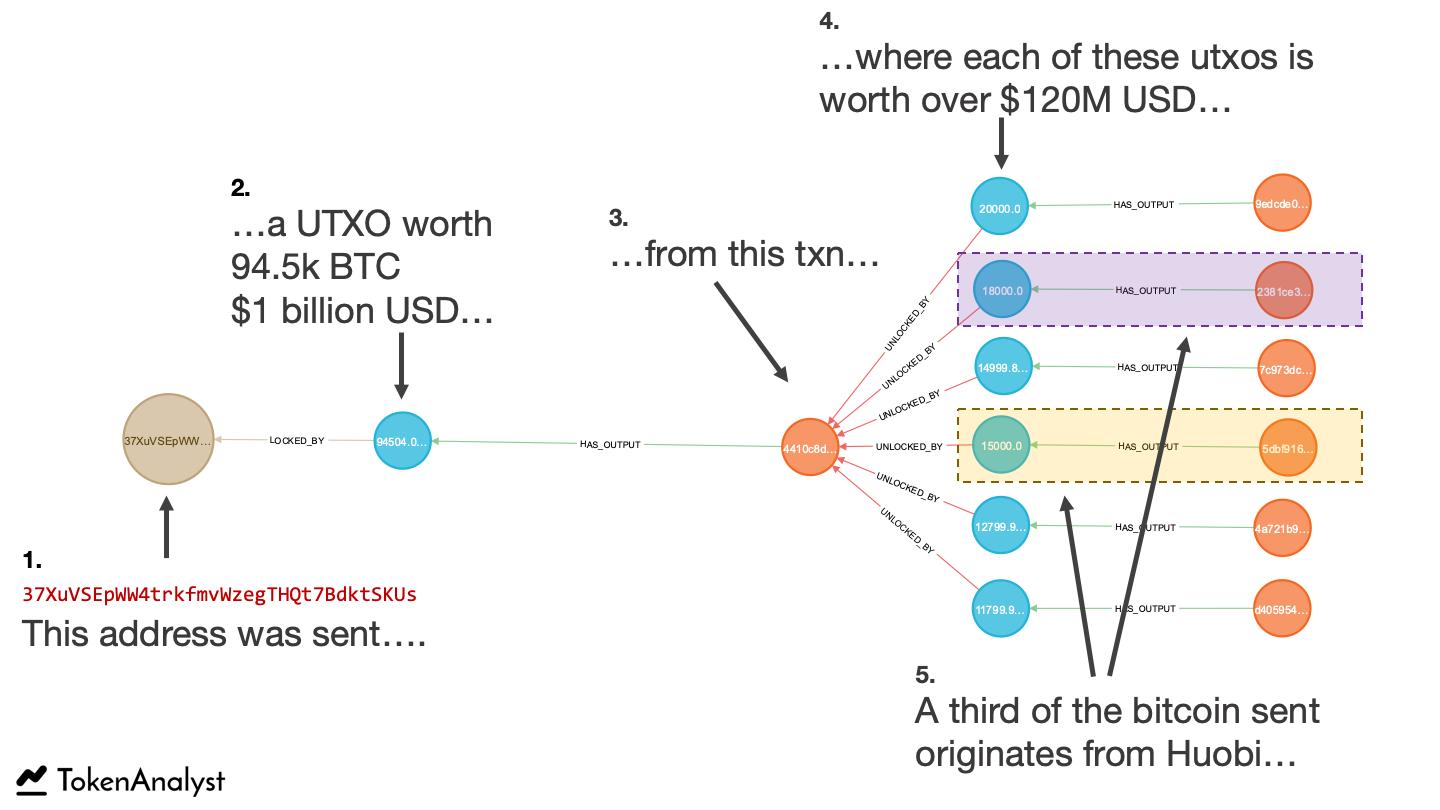 So far, Huobi hasn't came with any reaction on its Twitter page or website. The crypto exchange operator is busy with launching its blockchain phone called Acute Angle and a new token called NODE.
The only plausible explanation is that Huobi is moving the clients' funds to another digital wallet, probably a cold one. In other words, it might be a technicality that shouldn't concern us, though $1 billion worth of Bitcoin in a single transaction is eye-catching anyway.
On Wednesday, we reported how 24,000 BTC that moved from OKEx created panic among Bitcoin holders as they feared a potential hack. However, OKEx CEO Jay Hao didn't hesitate to explain that it was just a scheduled wallet maintenance procedure.
Unlike the recent $1 billion move, OKEx's Bitcoin transactions were carried out in multiple tranches of 3,000 BTC each.
Almost $700 Paid in Fees
Another interesting aspect of the 100k-ish BTC transaction is that it came with a 0.065 BTC fee or nearly $680, according to blockchain.com data.
Imagine how much it could cost to send $1 billion in fiat money? The advantage of blockchain becomes evident in this case.
Also, the community was overwhelmed by the power of blockchain in another context. Using the traditional payment channels, it would be almost impossible to send $1 billion in about 30 minutes with no government involvement and no documents.
94,504 bitcoin were moved today in a transaction.

That's $1,000,000,000 transfered for a $700 fee.

No government, bank or third party had to verify the transaction, nor could they have stopped it if they wanted to.

The true power of bitcoin.

— Rhythm (@Rhythmtrader) September 6, 2019
Do you agree that Bitcoin is one of the greatest ways to exchange value? Share your thoughts in the comments section!
---
Images via Shutterstock, Twitter: @whale-alert, @thetokenanalyst, @Rhythmtrader, TokenAnalyst
The post $1B Bitcoin Transaction Traced Back to Multiple Huobi Addresses appeared first on Bitcoinist.com.