The highly anticipated launch of Bakkt's physically-backed bitcoin futures has been disappointing, to say the least, posting only $5.8M of BTC trading volume in the first week. Many people in the community saw Bakkt as the catalyst to get institutional investors to enter the market. But so far, it doesn't seem like institutions are interested.
---
Low Trading Volume in the First Week
Bakkt has been one of the most hyped projects in the bitcoin community. It has one major difference versus the other futures offerings that are already live; the fact that its contracts are physically backed by real bitcoins. That means when investors buy contracts through Bakkt, they are buying actual BTC for that contract.
Bakkt's first week volume was approximately $5.8 million.

It managed to get traders interested in 5 bitcoin worth of its physically delivered daily futures. Quite the successful launch.

— Alex Krüger (@krugermacro) September 29, 2019
However, the launch of Bakkt has been very underwhelming. In the first seven days, there was only $5.8M in trade volume. Compare that to the $460M of volume CME futures saw on their first week, or the $700M weekly volume they see today.
Some crypto-commenters have made the argument that Bakkt adoption will be slow at first, but will pick up significantly as investors wait and see how the market works, what regulation arises, etc.
Bakkt Cause of BTC Price Decline?
Many analysts have linked Bitcoin's 20% price drop this week to Bakkt's disappointing launch. After over a year of hype, the low trade volumes scared some investors that were hoping for institutional funds to come in. The price of one BTC was hovering around $10k before the launch. Some slow bleeding a sizable flash-crash, the price now sits at right around $8k.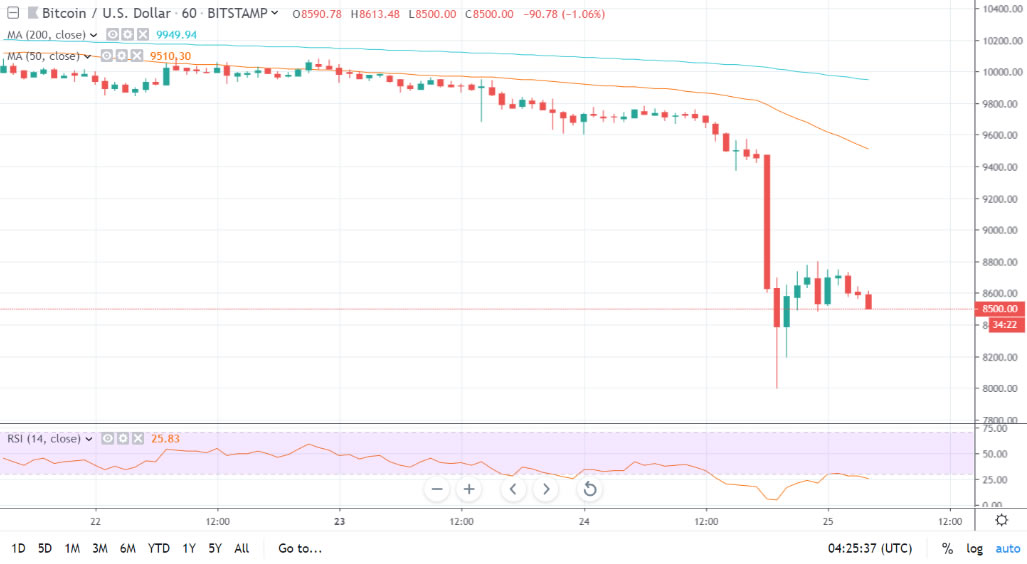 BTC price 1-hour chart – Tradingview.com
It seems like history is repeating itself in this case. When CBOE and CME both launched their futures markets in December 2017, the price took a similar dip. That was when Bitcoin was around its all-time high of $20k. Within a month and a half, Bitcoin had lost nearly 50% of its value.
We will have to wait and see how Bakkt's volume performs over the next few months, whether or not they'll be able to attract institutional investors, and how bitcoin price reacts to traditional financial markets embracing cryptocurrencies.
How do you think Bakkt's launch went? Do you think the bitcoin futures exchange be able to attract investors to BTC over time? Let us know your thoughts in the comments down below!
---
Images courtesy of Bitcoinist Media Library, BTC/USD Charts by TradingView, Twitter: @krugermacro
The post Bakkt Raked in Only $5.8 Million BTC Trading Volume in First Week appeared first on Bitcoinist.com.