With the price of Bitcoin [BTC] recording a major plummet, speculations of its next move have been flooding the crypto-verse. Standard Chartered joined this list by making a rather devastating prediction for Bitcoin.
According to analysts at Standard Chartered, Bitcoin was showing signs of dropping to a low of $5,000. This certainly came as a shock to many considering the asset's recent recovery. The analysts noted that this drop is likely to be attained in 2023. Bitcoin's possible plummet to a low of $5K would occur in light of the destruction of the "crypto bubble." The bank's head of global research Eric Robertsen said,
"Yields plunge along with technology shares, and while the Bitcoin sell-off decelerates, the damage has been done."
Back when BTC was at $18K, the community assumed that the king coin had already hit its bottom. However, the FTX debacle pushed the asset down to the mid $15K range.
Later, JP Morgan analysts highlighted the possibility of Bitcoin dropping to a low of $13K. While BTC managed to stay over $15K, the asset's fate in 2023 is quite uncertain.
In addition to Bitcoin's latest prediction, Standard Chartered also predicted that oil prices would plummet. Food prices would follow suit and drop as well. The one that stood out was the possible impeachment of U.S. President Joe Biden.
Here's how Bitcoin is currently faring
As mentioned earlier, BTC was finally veering back to recovery. At press time, following a weekly surge of 6.63 percent, the king coin was trading for $17,262.31. Earlier today, the asset rose from a low of $16,940.90 all the way to a high of $17,378.15.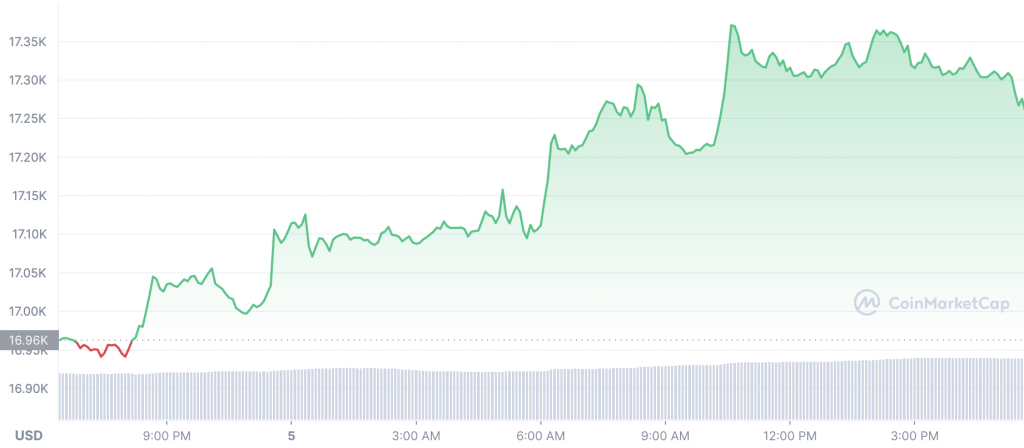 The market cap of the asset was at a low of $331.84 billion. The overall crypto market stood at $867.33 billion with a 1.83 percent surge over the last day.