A survey by cryptocurrency blog Crypto Radar is showing a high bitcoin apathy in the U.K. for people of retirement age.
---
67.5% of U.K. Citizens Have No Interest in Bitcoin
According to the details of the survey as published by Crypto Radar, only 5.3% of the 2,500 participants owned Bitcoin. Of this number, more than half  say they don't plan on buying more BTC.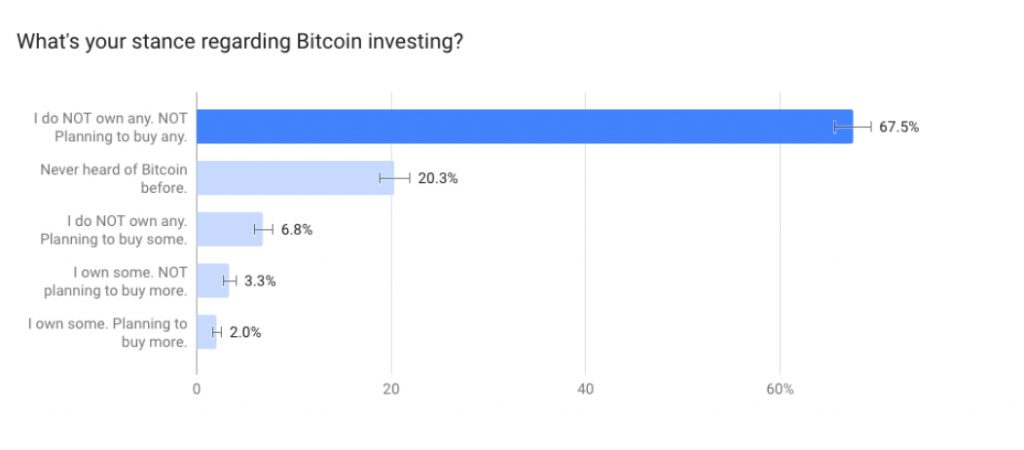 The survey also showed an apparent high level of BTC apathy in the U.K. with 67.5% percent of respondents claiming they did not own or have any intention to own bitcoin. This demographic even increases further when only considering male participants aged 65 years and above.
High bitcoin apathy among people of retirement age isn't a new phenomenon as seen by numerous similar surveys. The situation surrounding Brexit may also see retirees looking to hedge their fortunes in assets deemed to be less risky than cryptos.
Bitcoin volatility aside, global negative-yielding debt is north of $17 billion. Plus, there is an argument to be made that BTC provides a hedge against the growing.
On the other end of the spectrum, the reality appears flipped with a significant number of male respondents between 35 and 44 years of age keen on increasing their BTC ownership. Commenting on the results, Crypto Radar chief, Amine Rahal remarked,
Regardless of its enormous volatility, Bitcoin is a very attractive asset class for those investors, especially younger investors, who are willing to ride the volatility to tremendous gains.
Patchy Crypto Adoption in Europe
One particularly striking result from the survey was that about 20% of respondents claimed to not know about bitcoin. An ING survey published in September showed nearly a quarter of U.K residents believing that bitcoin will eventually replace cash.
Both the ING and Crypto Radar surveys did reveal an apparent dearth of crypto education in the U.K. This limited range of crypto awareness even extends to young upwardly mobile professionals who usually form the core of global BTC adoption.
While bitcoin is a demographic mega-trend in the U.S., the same cannot easily be said for their counterparts across the pond. In all, these surveys reinforce the patchy crypto adoption landscape that characterizes Europe.
Currently, it appears that bitcoin appeal only ranks high in places like Turkey where there are some economic struggles.
Do you think there exists a low level of bitcoin education in the U.K? Let us know in the comments below.
---
Images via Shutterstock

The post Bitcoin Ownership in UK Surprisingly Low, New Survey Reveals appeared first on Bitcoinist.com.