In January 2017, Bitcoin breached the $1000 benchmark, creating a new record high at that time. By mid-December that year, the asset already inclined to a new peak at around $19.7k. Fast forward to today, the largest crypto asset is currently trading at levels at par with 2017's highs.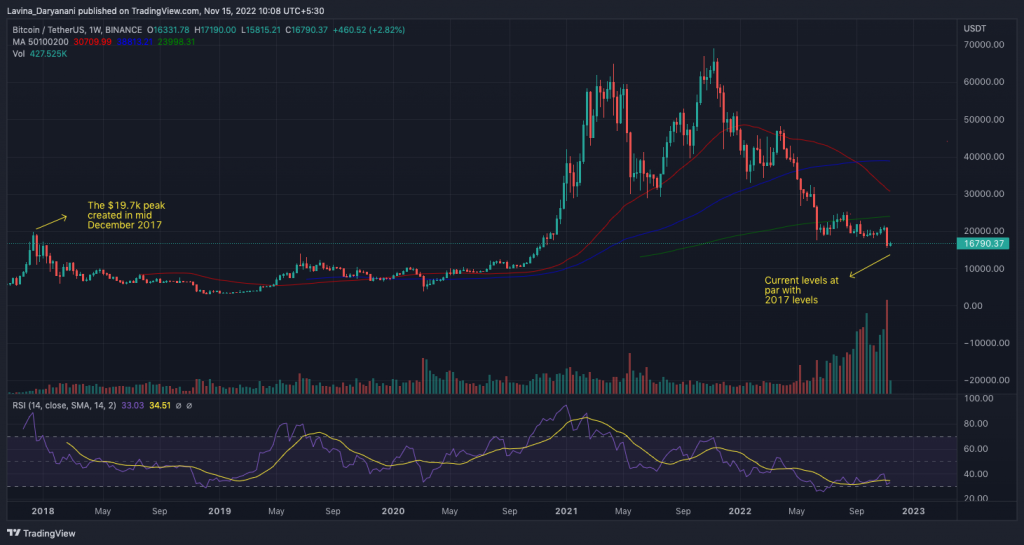 In fact, "Checkmatey," the pseudonymous lead on-chain analyst at Glassnode, took to Twitter to highlight that Bitcoin's realized dominance currently stood at 59% and was "rising." As illustrated below, the current levels were at multi-year highs. Yet again, even they were only seen back in December 2017 before this.
The rising dominance of Bitcoin is perhaps one of the few silver linings of the ongoing bear market. Stressing the importance of the realized cap relative to the market cap, the analyst said,
"Market cap is a metric that allows the SBFs of the world to run their high fully-diluted value scam valuations and dupe investors. Realized Cap is the ultimate valuation tool as it requires tokens to truly circulate and thus influence the daily-traded volume, depressing prices."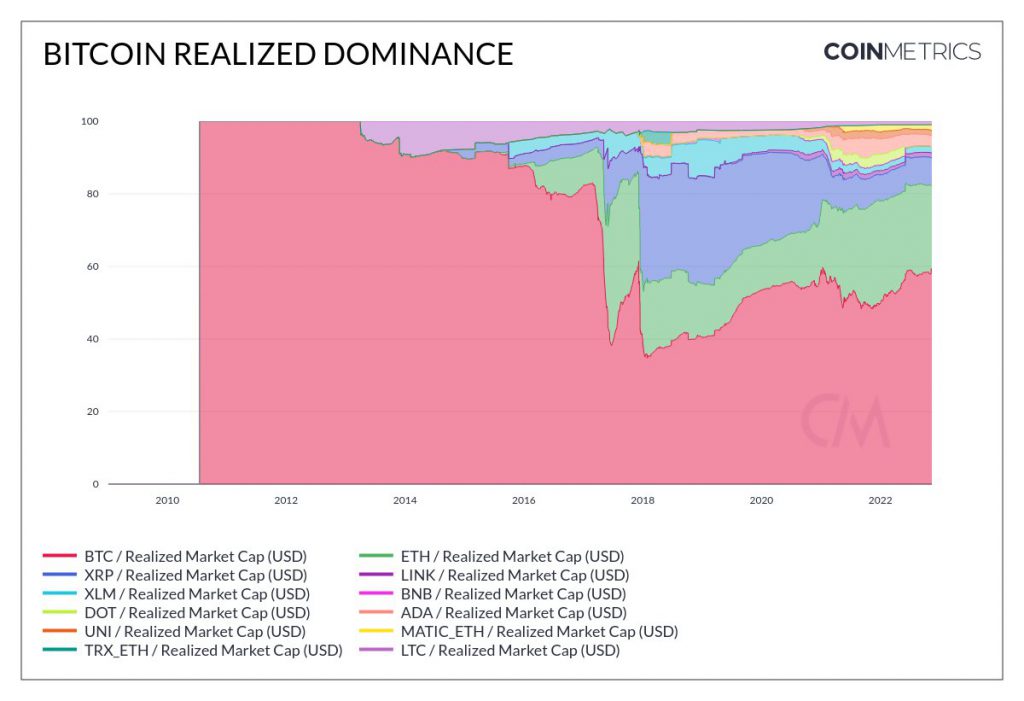 Whales, Shrimps, Crabs, Sharks, Fishes collectively accumulate Bitcoin
As highlighted in an article yesterday, large volumes of BTC have been flowing out of exchanges of late. Data from Glassnode's latest weekly report asserted that almost all wallet cohorts have experienced a net balance increase. Per the report,
"The Shrimp cohort (< 1BTC) have added 33.7k BTC this week alone, resulting in a 30-day increase of +51.4k BTC. This level of balance inflow is the second largest in history, surpassing the peak of the 2017 bull market."
Alongside, the Crab cohort—HODLing between 1 and 10 BTC—continues to be similarly aggressive. Collectively, they've pulled out 48.7k BTC off exchanges, and have been approaching acquisition rates at par with the 2017 bull market peak.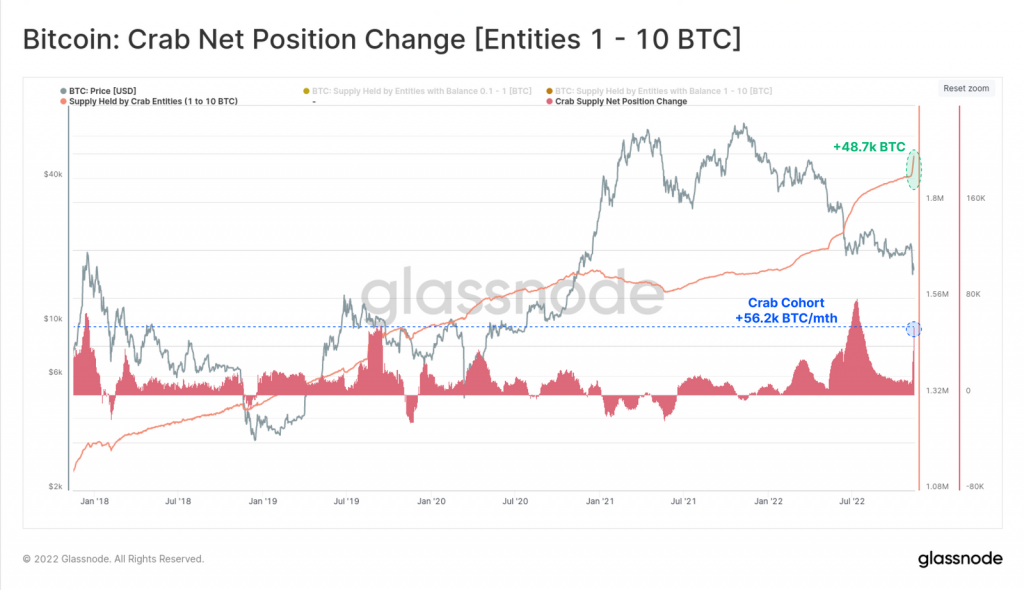 Wallets possessing between 10 and 1k BTC are usually known as Fish, Sharks and encapsulate high net-worth individuals, trading firms, and institutional investors. Per Glassnode, last week alone, their aggregate balance rose to 78.0k BTC, one of the largest 7-day balance increases in history for this cohort.
Whales  [balance > 1k BTC], on the other hand, have been accumulating over the past few weeks. Their 30-day balance change noted an upward rise of 53.7k BTC. Their activity last week, nonetheless, remained weaker than other cohorts, for they only registered a "modest" balance increase of 3.57k BTC.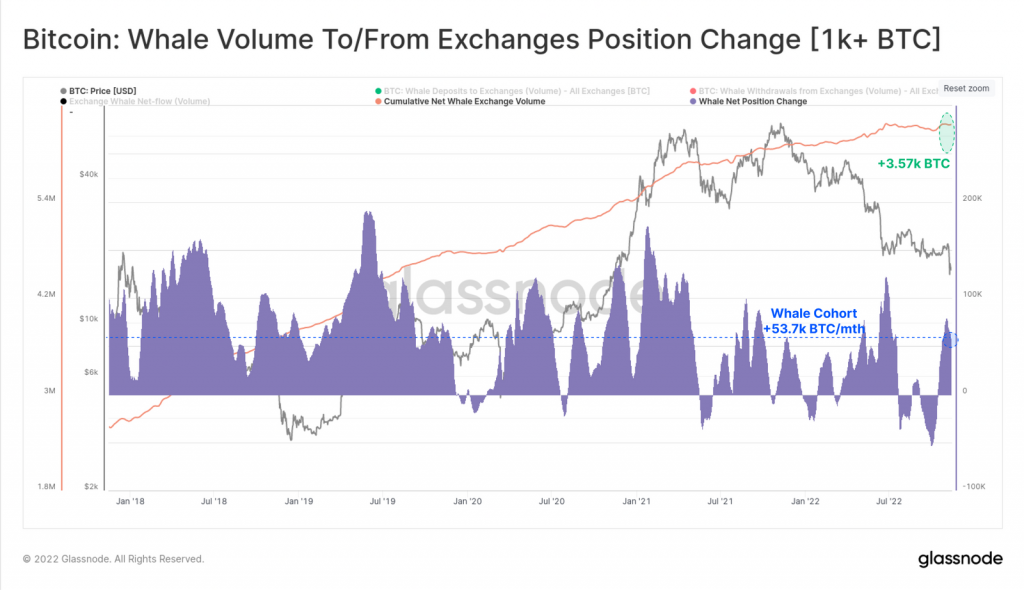 The thousands of coins added over the past few days by small, mid-sized, and large participants have quite finely set the stage for Bitcoin to glide up on the charts. If the macro factors do not play spoilsport and if the buying momentum persists going forward, then, tables can be expected to turn for Bitcoin.
This article was first published on Watcher.Guru