The crypto carnage instilled by the bears has caused immense damage to the entire ecosystem. Bitcoin [BTC] was dragged from a high of nearly $50K at the beginning of 2022 all the way to the mid $15K level. As the year is coming to an end, a plethora of predictions regarding BTC's price has been pouring in. Investment platform, VanEck was the latest to join the list.
As per the investment giant, Bitcoin could drop to $10,000 or even $12,000 in the first quarter of 2023. Matthew Sigel, head of digital assets research at VanEck, said,
"Bitcoin will test $10,000-$12,000 in Q1 amid a wave of miner bankruptcies, which will mark the low point of the crypto winter."
It should be noted that JP Morgan predicted that Bitcoin could drop down to $13K. Standard Chartered on the other hand expects BTC to dip to a low of $5,000 in 2023.
Some hope was instilled in the crypto-verse after Sigel suggested the possibility of BTC bouncing back to $30K. This, however, will occur in the second half of 2023.
Here's how Bitcoin has been faring
As mentioned earlier, Bitcoin encountered a major setback post the FTX debacle. While the asset has been trading in the $16K zone for quite some time, it finally witnessed a dainty surge. At press time, BTC was trading for $17,805.40 with a 3.49 percent daily increase.
The last seven days have been quite significant for the asset as it rose from a low of $17,276.62. Earlier today, BTC surged to a monthly high of $17,930.09.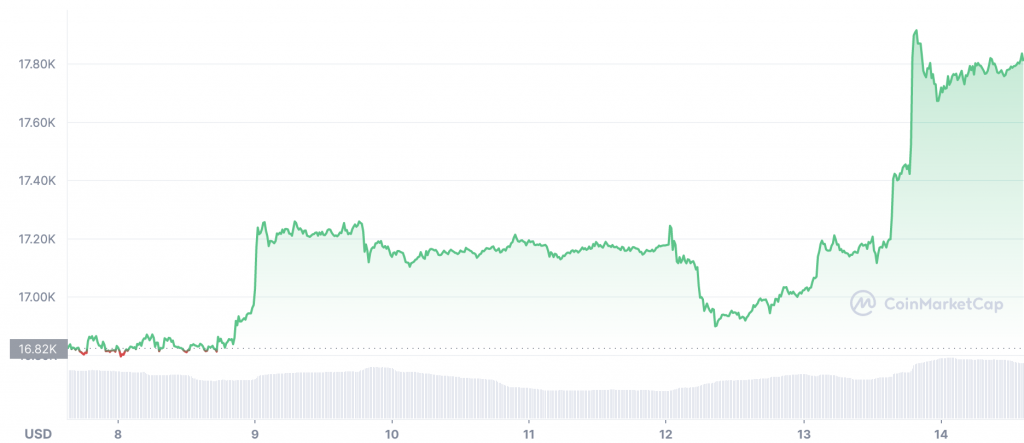 With the increased withdrawals that Binance is experiencing, the community hoped to see volatility in the market. However, Bitcoin seemed to be treading smoothly.
Nevertheless, the asset is still 74 percent below its all-time high of $68,789. Despite the aforementioned predictions, the path that BTC is expected to take remains quite uncertain.