Despite stagnation in the Bitcoin market, the hash rate of the leading cryptocurrency has grown stronger and stronger. The hash rate is the measure of the computational power being allocated to mine BTC blocks.
As noted by CoinCorner's Matt Ward, data shows that the hash rate just hit a new all-time high on July 13th. The measure hit 147.88 exahashes per second, which is double that seen a year ago and over 10 times higher than that of 2017's $20,000 high.
#bitcoin hashrate just reached an ??? ???? ????.

The ?????? the hashrate, the more ?????? the network is. pic.twitter.com/AemXaovRdi

— Matt Ward ⚡️ (@CoinCornerMatt) July 13, 2020
This indicates that Bitcoin is more secure as a computational network than ever before, even though the market has flatlined.
But what effect will the booming hash rate have on the price of BTC?
Bullish for the Bitcoin Price: Analysts
According to Bitcoin investor and the co-host of the Keiser Report, Max Keiser, BTC is likely to follow the hash rate higher. In a series of tweets published on July 13th, Keiser cemented his sentiment:
"Hashrate precedes price BTC. Bitcoin price – not that important – as Gold price is not that important since both BTC and Gold trade inversely with the USD. BTC hashrate increasing shows confidence in fiat money collapsing Soon, BTC will actually be drawing energy away from fiat."
As a pertinent aside, Keiser previously said that he thinks 99% of all the hash rate in the crypto industry will soon be allocated to Bitcoin.
This sentiment has been corroborated by other investors.
Charles Edwards, a digital asset manager, unveiled the "Energy Value" model for the BTC price in December of 2019. The premise is that the "value of Bitcoin is a function of its energy input in Joules.
The formula he created was then accurate, with his analysis indicating it has had an 80% R2 value over Bitcoin's lifespan. The same model predicts that BTC is currently around 28% undervalued. With the high accuracy of the model, should Bitcoin's hash rate remain this high or continue to grow, the BTC price will eventually follow.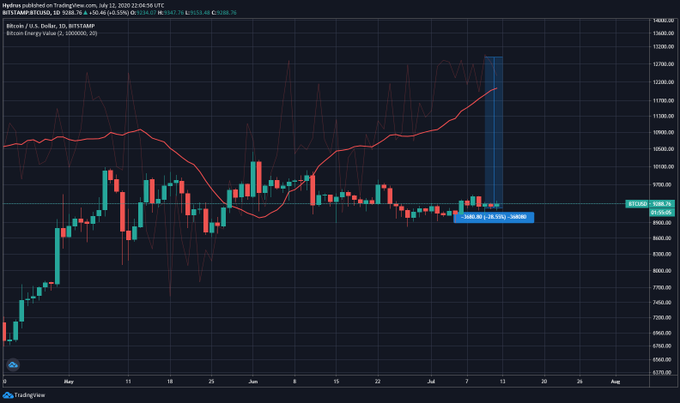 Chart of BTC's price action over the past few months with the "Energy Value" model from trader Charles Edwards. Chart from TraidngView.com
What's Behind the Hash Rate Surge?
With analysts agreeing that strength in the hash rate will cause Bitcoin to move higher, it's worth taking a look at what's behind the trend.
This writer explained in a recent Twitter thread that there are four trends behind the ongoing surge in hash rate. These are growing investments by mining firms, it becoming "rainy season" in China, new ASIC machines, and a potential hash war.
Speaking to the second point, the cost of electricity dramatically declines in China when rivers begin to flood. This drives down the cost of running ASIC machines in China, where there is a majority of the Bitcoin hash rate.
After falling 27% following the halving, Bitcoin's hash rate has just set a *new all-time high* at over 124 exahashes per second.

Once again, no "death spiral" was had. And that's long-term bullish for BTC.

Here's more on why. pic.twitter.com/aftOputP74

— Nick Chong (@_Nick_Chong) July 12, 2020
This confluence of trends seemingly indicates that Bitcoin's hash rate won't stop climbing, especially if BTC holds current levels or appreciates even higher.
Featured Image from Shutterstock
Price tags: btcusd, xbtusd, btcusdt
Charts from TradingView.com
Bitcoin's Hash Rate Just Hit a High — Max Keiser Thinks Price Will Follow