Germany's economy shrinks, fuelling risks of a recession and fears of economic contagion throughout Europe.  Unfortunately, central banks have limited resources to reduce the effects of broad-based economic decline.
---
Failures of the 'New Normal'
Over the last ten years, economic stagnation has prevailed across Europe.  A 'new normal' as characterized by low-interest rates and easy monetary policy has done little to spur inflation and stimulate growth.  Analysts now fear that if central banks fail to act, the region could face another lost decade.
Markets were jarred again today when investors learned the German economy contracted during the second quarter.  GDP figures shrank by -0.1% for the period, down from the +0.4% growth figure posted during the first quarter.  Nadia Gharbi of Pictet Asset Management tweeted:
This puts Germany at risk of falling into a recession, which is defined by two consecutive quarters of GDP contraction.
Germany Contagion Risks Build
Trade war tensions and global uncertainties have weighed on the country's manufacturing sector and analysts now fear economic weakness in Germany could cause an economic contagion throughout the eurozone.  Economist Juan Jose Gil recently told Bloomberg:
Germany is Europe's locomotive.  If Germany catches a cold, other countries get sick.
These fears have been confirmed in the broader GDP data reports, which show that the eurozone economy barely grew during the second quarter of 2019.  As Kit Juckes of Societe Generale recently told CNN:
Weaker global trade, a struggling global auto industry, Brexit and China's economic problems get pretty close to a perfect storm for Germany.
Germany is Europe's largest economy (and the fourth largest in the world), so today's GDP report can accurately be described as a "perfect storm" of economic events hitting the region: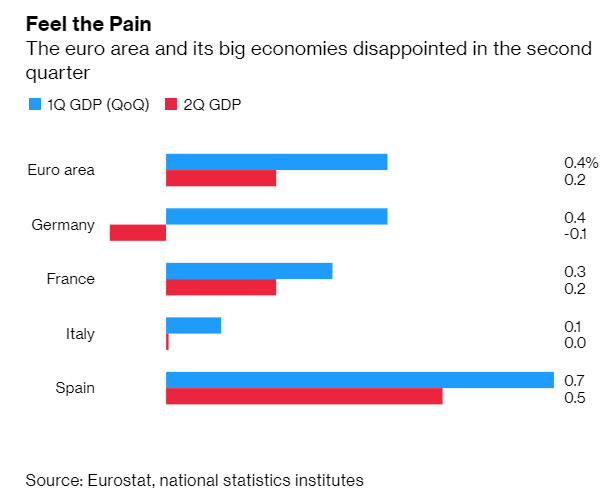 As investors and consumers continue to face real questions about the need for decentralization, all eyes will remain on the actions of central bankers in their efforts to limit the effects of broad-based economic decline.
Central Banks Face Limited Options
GDP declines have inspired economists to call for action from the German government and Chancellor Angela Merkel could be forced to abandon her long-established disapproval of government borrowing.
Germany's long-running debt brake law prevents government leaders from running unbalanced budgets that create deficits.  However, borrowing costs remain at historic lows and the country's manufacturing sector shows no signs of a rebound.  This creates strong arguments for the need to tap bond markets as a way of funding regional investment activity.
State Street's Marija Veitmane recently explained to Bloomberg TV :
We are getting to a point where the German government has to do something to stimulate the economy.
In response to these widespread calls for action, Chancellor Merkel has shown a willingness to loosen the country's purse strings but offered limited specifics in saying:
It's true, we're heading into a difficult phase…. We will react depending on the situation.
Is Germany's decline evidence of broader economic collapse throughout the region?  Let us know your thoughts in the comments below!

---
Images via Shutterstock
The post Germany's GDP Drop Ignites Fears of Economic Contagion appeared first on Bitcoinist.com.