It has been a fortnight since the global crypto market cap traded above the $1 trillion mark. At the beginning of the month, as crypt prices recovered, the aggregate valuation found solace around the said threshold. Right after that, however, it noted a freefall of more than $200 billion. Owing to the futile stabilization attempts, the same stood at merely $756 billion at press time on Monday.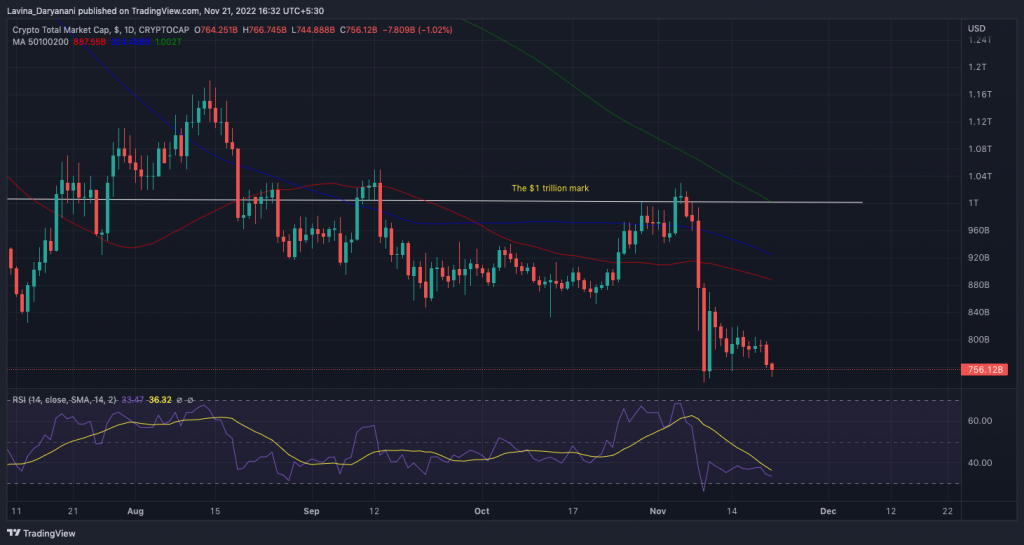 Bitcoin, Ethereum price
On the price front, both Bitcoin and Ethereum have been replicating each other's prices. Both the top assets slipped below their moving averages recently and have been trading in red of late. Alongside, both markets were also characterized by a lack of buying momentum. The same was confirmed by the undernourished reading of the Relative Strength Index indicator.
After noting a daily decline of 4.4% and 11.32% over the past 24 hours, Bitcoin and Ethereum were seen exchanging hands at $16052 and $1121 at press time respectively.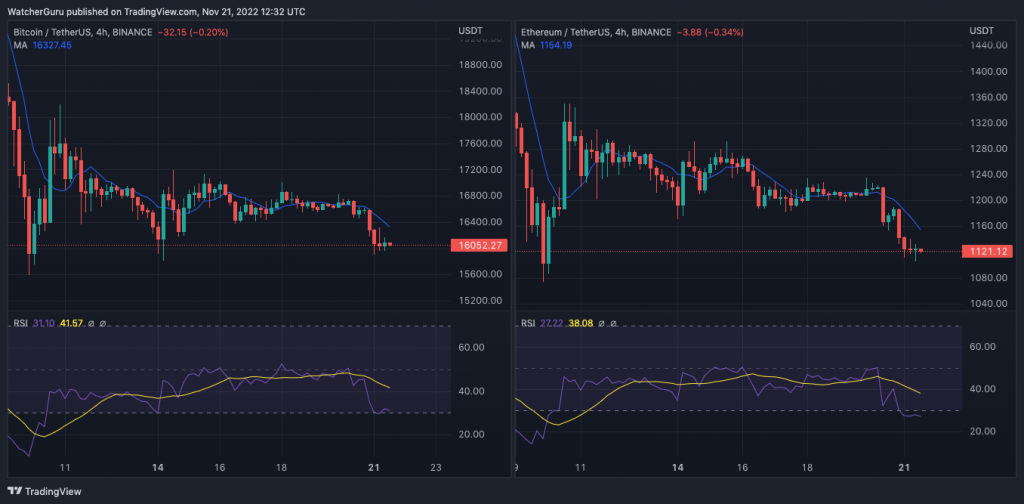 Also Read: Is it 'game over' for Bitcoin?
Extent of damage
Data from Infinite Market Cap brought to light that Bitcoin slipped two ranks down to the 28th position when compared to other asset and company valuations. Standing at $308.38 billion at press time, Bitcoin's market cap was lesser than that of Nestlé. The latter, in fact, managed to notch up by a rank. Nevertheless, the valuation of other prominent names like Samsung, Meta, Bank of America, and Coca-Cola stood much lower than Bitcoin.

Ethereum's position was much lower. When the asset's market cap dropped below $200 billion at the beginning of November, its ranking slipped 9 positions—from 59 to 50. With a much more withered market cap [$137.2 billion] at press time, the asset was down on its knees to the 90th position. Resultantly, it was flipped by the Royal Bank Of Canada. With market caps ranging between $163-$166 billion, the likes of other renowned names Nike and Walt Disney ranked much higher [66 and 68 respectively].