Robinhood is finally entering the software wallet game.
The company today launched the Robinhood Wallet, a smartphone app that allows users to swap and transfer crypto, and view owned NFTs and crypto. It's currently available to over 1 million waitlisted users who have been given an access code, according to Robinhood. It was previously released in beta to just 10,000 waitlisted customers in September.
The Robinhood Wallet uses Polygon, an Ethereum sidechain, to offer swaps without network fees. It also added support for Ethereum today.
If you're confused about what's going on with Robinhood "wallets," we don't blame you. Robinhood initially referred to a new transfer feature on its original trading app as a "Crypto Wallet" product. That feature launched in beta in January 2022, and it finally allowed Robinhood users to transfer crypto to and from the platform.
That wasn't really a "wallet"—it's no different than how users are able to transfer crypto to and from Coinbase, Kraken, Binance, or any other crypto trading app. The Robinhood Wallet that is being rolled out today, however, is more like MetaMask, or Phantom, or the Coinbase Wallet (not to be confused with the Coinbase trading app).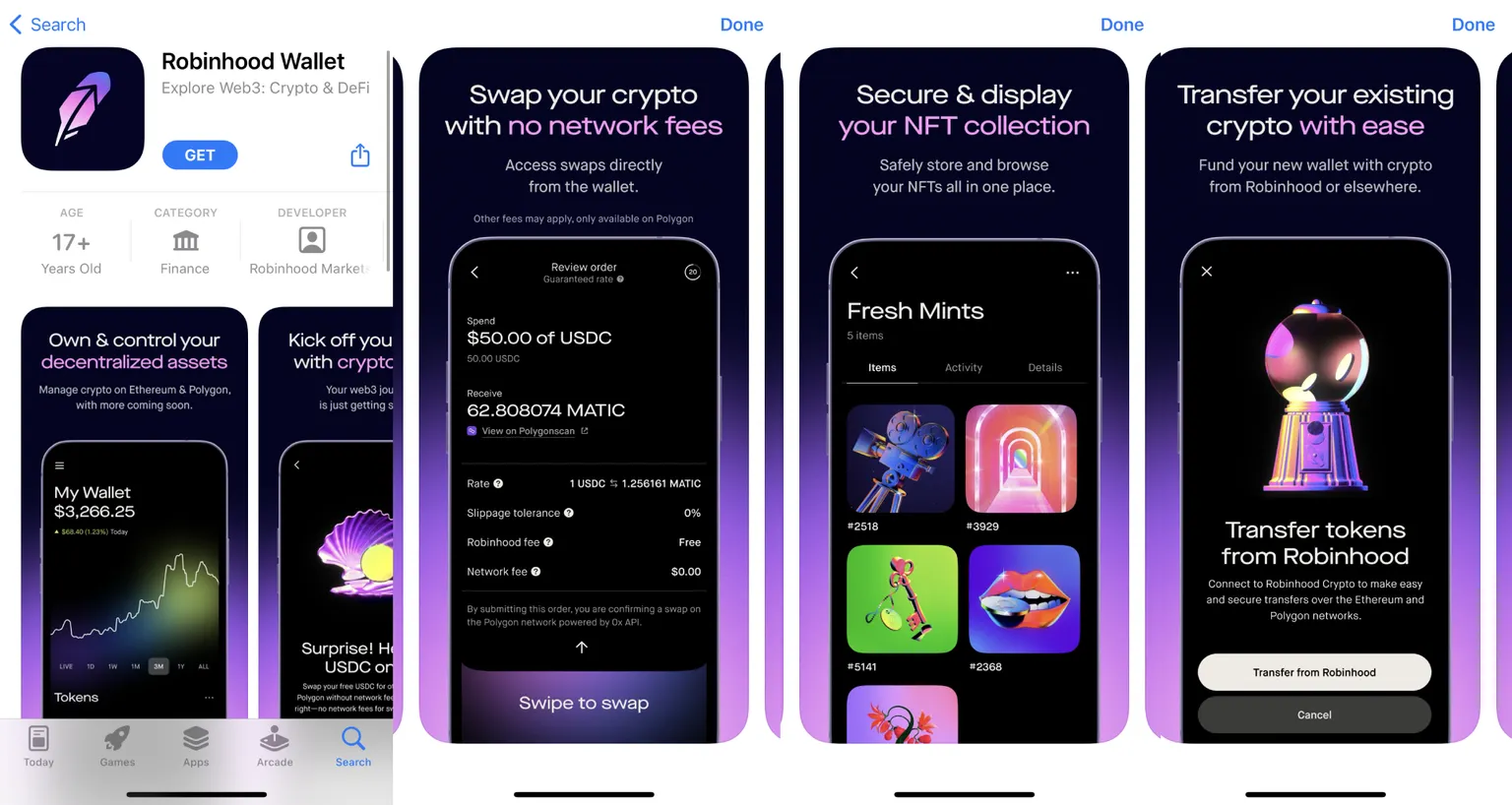 "The Robinhood Wallet is a completely different product housed in a separate, standalone app that allows users to have total control over their crypto and provides access to more advanced features, like connecting to decentralized apps and NFT marketplaces," Robinhood's General Manager Johann Kerbrat told Decrypt.
"This is much more than just a wallet—think of the Robinhood Wallet as a 'browser' for Web3," he said. To be fair, though, this is exactly how other wallets like MetaMask describe their products as well.
And that makes sense, since Robinhood Wallet was designed to compete with MetaMask, the popular Ethereum wallet product.
"We built this product to solve the challenges that many users had using competing products, which include unintuitive design and high fees," Kerbrat told Decrypt. "We heard from our beta users that other products in the market are too complicated and difficult to use."
Currently, the Robinhood Wallet app is only available on iOS mobile devices. When asked if a desktop browser extension might be in the works, a Robinhood representative said they were unable to "speculate on the future."
"For now we're focused on rolling out to iOS users only," the spokesperson said. "Robinhood Wallet will be available to all iOS users in the coming weeks and months. Android support will follow later this year."
Stay on top of crypto news, get daily updates in your inbox.
This article was first published on Decrypt.co